Henna comes from an Arabic word and refers to the dye paste made from the Henna plant. Since the late bronze age, it has been used to adorn women for special occasions and has gain a resurgence around the world for adding to one's beauty.
Leaves and twigs from the Henna plant are crushed and mixed with water. The dye is painted on the body with cones like a pastry bag and left to dry on the skin for about 10 minutes. Completely safe and natural, it will not irritate the skin or leave a lasting mark. The stain will remain for only a week or two. Oil is sometimes added to the henna solution and in rare instances irritate the skin.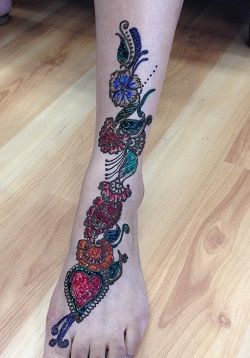 Traditionally the decorations were added to the hands and feet of ladies. Since it's worldwide popularity over the past twenty years, henna designs are used on any part of the body for women and men.
Our technicians are trained to provide beautiful authentic henna tattoos. Come and experience them for yourself.